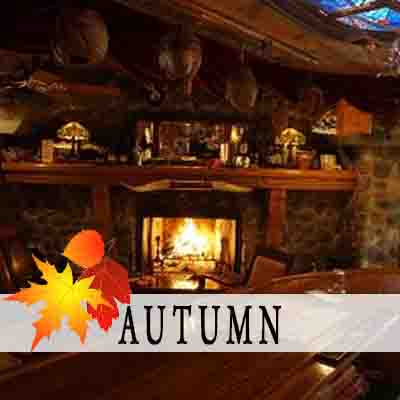 You need to look no further than Adeline's House of Cool for your carefree, enjoyable and memorable Wisconsin Autumn vacation rental.
October, November or up to December 21st when winter officially begins, Adeline's is the one Wisconsin Autumn vacation rental that offers you a private retreat to fall back and relax.
Wander the well-maintained grounds and discover unique features while you enjoy the crisp autumn air. You can also sit back, relax and take in the view while lounging around the outdoor firepit or from cozy chairs, benches and hanging swing benches on the wrap around decks.
To complete your Wisconsin Autumn vacation rental, Adeline's House of Cool has a 20ft inground, indoor hot tub. stone fireplaces, first-floor game room, second-floor entertainment area, full-service kitchen, two dining areas, and 6-bedrooms to comfortably accommodate 12 people.
Fall Featured Festivals, Fairs, and Activities
October
Green Lake Folk Art Festival. Traditional crafts and skills with demonstrations. Folk Art Painting, rugs & weaving, soaps, paper mache, jewelry, clothing, metal sculptures, photography, baskets, apples, honey, pasture-fed beef, pork, chickens, garlic, leeks. Informative speakers both days. Admission fee.
November
Christmas at Princeton. Pictures with Santa at Historical Society. Evening lighted parade on Water Street with tree lighting ceremony and hot chocolate. 4 craft fairs throughout the community. Library Silent Auction and Festival of Trees at Community Hall in City Park, Breakfast with Santa at Aunt Judy's Cafe.
December
Dickens of Christmas. Enjoy the Annual Dickens of a Christmas in Ripon. Numerous events throughout the weekend to please those of all ages. Enjoy the "Living Windows" display in Downtown Ripon as shops, boutiques, and businesses come alive with the spirit of Christmas' past present and future. Enjoy a visit with Santa & Mrs. Claus, see and meet live reindeer, horse-drawn carriage rides and tour the Enchanted Forest.
Sources:
Ripon Area Chamber of Commerce
Princeton Chamber of Commerce
Green Lake Area Chamber of Commerce