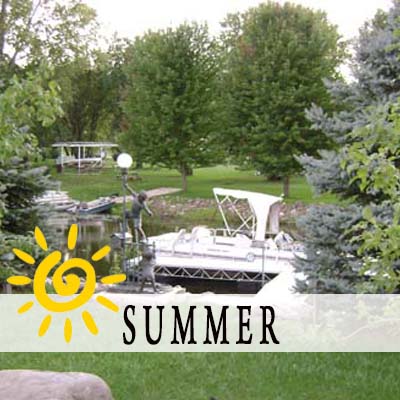 Your search for the perfect Wisconsin Summer vacation rental is over. Adeline's House of Cool is your own private retreat with 6 bedrooms, 20-foot in-ground hot tub, game area, dining rooms, two wraps around porches with cushioned chairs, benches and hanging swing, spacious ground with hidden treasures, firepit, and pier.
July, August or September, Adeline's is the perfect Wisconsin summer vacation rental to help make your summer perfect.
To make your Wisconsin summer vacation rental complete, Adeline's House of Cool has a private pier, on property trailer parking and channel access to Lake Puckaway. Boating, jet skiing, kayaking and canoeing on Lake Puckaway are guest favorites, as is fishing to catch walleye, pike, and bass.
Summer Featured Festivals, Fairs, and Activities
July to August
( weekly -Fridays) The Ripon Summer Concert Series encompasses a wide range of musical genres including country, blues, classic rock and other styles, and is free to the public. Concerts take place in Historic Downtown Ripon. Participants are encouraged to bring lawn chairs or blankets to sit on.
July
The annual Green Lake 4th of July Parade features acts, music, local organizations, local emergency services, and so much more! Be sure to stay in Green Lake until dusk to witness one of the most spectacular fireworks displays in the area over Dartford Bay.
August
The Green Lake County Fair is a county-supported Fair that offers a fun, safe, family-friendly event. It is held annually the first weekend of August. The Fair is a long tradition that locals and visitors wait for. Known as "the best little fair around," bring your family and see why!
September
No matter what time of year it is, everyone looks forward to Harvest Fest. This two-day celebration transforms downtown Green Lake into a haven for all things fall! With a craft fair, farmers market, food vendors and live entertainment… what more could you ask for?
Sources: Ripon Area Chamber of Commerce Green Lake Area Chamber of Commerce