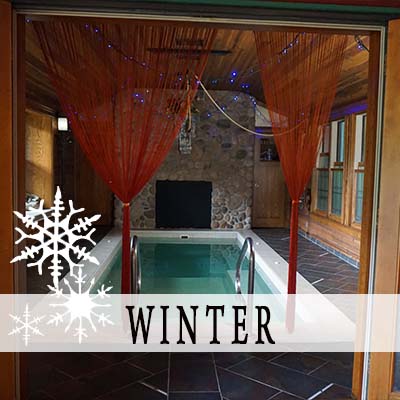 With all Adeline's House of Cool has to offer, choosing Adeline's for your Wisconsin winter vacation rental is made even better with Adeline's 20ft in-ground hot tub kept at the perfect temperature, custom stone fireplaces to cozy up to and a large wet-bar with coolers, and recreation area with stereo system, jukebox, pool table, pinball machine, and tuned piano to keep you entertained.
As your Wisconsin winter vacation rental choice, Adeline's also provides spacious grounds to roam, two expansive covered wrap-around decks with swinging cushioned benches to take in the fresh winter air and a large fire pit to gather around.
A channel access to Lake Puckaway for snowmobiling, ice boating and fishing, and cross-country skiing make Adeline's House of Cool a complete Wisconsin winter vacation rental.
January thru March
Adeline's House of Cool has plenty to offer for shaking off the winter blues. However, if want to explore outside, Lake Packaway ice fishing is always fun as is cross-country skiing in the Grand River Marsh Wildlife Area and the sceneries are breathtaking.
Miles of well-groomed snowmobile trails are within a short drive to Green Lake.
Also, the ice on Green Lake in the winter months provides a plethora of activities to outdoor enthusiasts of all types. As soon as the lake freezes the sails of Green Lake's iceboaters appear. The Green Lake Ice Yacht Club hosts iceboating competitions on Green Lake and loves to share the thrill of the sport with newbies. The ice also brings ice skaters and hockey players to the ice skating rink at the Wharf. Complete with twinkle lights for skating day or night, the Wharf rink has plenty of free skates to borrow if you don't already have a pair.
If you prefer to keep your boots on the land, head to Zobel Park for an exhilarating ride down the hill on a sled or tube. This gently rolling hill draws the young (and young at heart) for a bit of exercise and excitement.
Sources:
Green Lake Area Chamber of Commerce